Che cosa è il Raid Internazionale di San Marino?
La Federazione Aeronautica Sammarinese ha organizzato fino all'anno 2003 una competizione internazionale di regolarità che ha avuto un grande seguito fra tutti gli aeromodellisti europei, ci sono state edizioni con la presenza anche di 120 piloti.
Dopo un fermo di 11 anni si è ripreso con la 37° edizione nel 2015 e con un regolamento simile, adattato alle nuove esigenze di sicurezza ed alle nuove possibilità che offre l'attuale tecnologia elettronica.
(nuovo regolamento ideato da Paolo Dapporto)
PRESENTATION
What is the International Raid of San Marino?
The Aeronautical Federation of San Marino has organized, until year 2003, an international regularity competition which received a large following among all European aero modelers, there have been editions with the presence of even 120 pilots. After a stop of 11 years, the 37th edition will be a new start in 2015 with similar regulations adapted to new security requirements and new possibilities offered by the current information technology.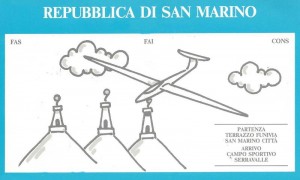 In cosa consiste il Raid?
In una prova di volo veleggiato a tempo prestabilito (16 minuti di volo) da disputarsi con aeromodelli di alianti che saranno lanciati dalla rupe di San Marino (da piazzale Borghesi che è a quota 650 mt.) con atterraggio al campo sportivo di Serravalle che è a quota 120 mt. Il modello sarà seguito nel suo volo dal pilota che si posizionerà sulla sua auto e percorrerà un itinerario stradale prestabilito, con obbligo di transitare da 3 postazioni di controllo presenti lungo il percorso.
Alla fine del Raid vi sarà una grande pranzo conviviale, presenti le autorità Sammarinesi e vi sarà la distribuzione dei premi. Il pranzo, sarà servito presso l'Aeroclub di San Marino dalle ore 12,30 alle 14,00.
A seguire la premiazione, e per concludere fino alle ore 18,00 vi sarà una bella manifestazione aeromodellistica.
What is the Raid?
It is a soaring flight at predetermined time (16-minute flight) held with a glider aero-model launched from the rock of San Marino (Piazzale Borghesi at an altitude of 650 meters) and landing in the sports filed of Serravalle at an altitude of 120 meters. The model will be followed, in its flight, by the pilot positioned in the car covering a predetermined route with the obligation of passing by n.3 checkpoints along the way. At the end of the Raid, a nice convivial lunch and award ceremony will take place in the presence of the authorities of San Marino. The lunch will be served at the Aeroclub of San Marino from 12.30 a.m. to 2.00 p.m.. Then, the awards ceremony will follow and a pleasant aero-modeling show until 6.00 p.m.